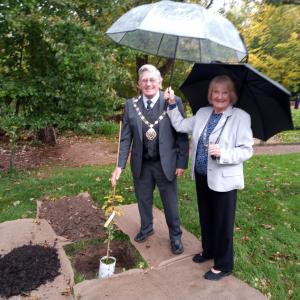 Mayor plants tree for the Queen's Jubilee
The Mayor and Mayoress of Waverley, Councillor John Robini and Councillor Jacquie Keen have made a special visit to Holy Cross Hospital in Haslemere to plant an Acer Campestre tree as part of the Queen's Green Canopy initiative.
Councillor Robini was given the tree, also known as a Field Maple, by Surrey County Council where he also serves as a councillor, to kick start this unique tree planting programme created to mark Her Majesty's Platinum Jubilee in 2022. This nationwide scheme encourages people from across the United Kingdom to plant a tree for the Jubilee. The Queen's Green Canopy project will see trees being planted by individuals, community groups, schools, businesses and councils to create a network of trees that will help support the environment and fight the climate crisis.
Dr Ross White, Chief Executive at Holy Cross Hospital said: "Our specialist neuro-rehabilitation hospital benefits from being surrounded by mature woodland - effectively a 'green-lung' within the area. Every direction patients look, they experience different sights, sounds, woodland breeze and scent. When mature, the Acer Campestre will be effective at carbon capture, so we are delighted that Councillor Robini asked us to be a part of this important initiative. With only 13% of the UK covered in woodland, I hope this will inspire other people to plant a tree too."
The Mayor of Waverley, and Surrey County Councillor John Robini said: "I am very grateful to Surrey County Council for their support of the planting trees projects and to Holy Cross Hospital for planting the tree in this tranquil area. I hope that it helps to provide patients and visitors some feeling of reflection."
As part of their visit to Holy Cross the Mayor and Mayoress also experienced a 'Music in Hospitals' concert for patients and visited Sisters in the adjacent convent.