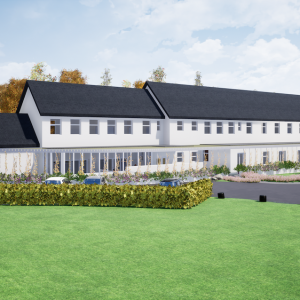 Holy Cross Hospital seeks to increase patient capacity
Holy Cross Hospital in Haslemere has applied for planning permission to convert an existing building within its grounds so it can keep pace with the ever-present demand for its services.
The hospital, which has a reputation for being a centre of excellence and was rated as Outstanding by the Care Quality Commission in 2017, specialises in providing care for people with an acquired brain injury. If agreed, the proposed conversion would enable the hospital to increase its capacity from 40 to 50 beds and to have more purpose-built space for patient activities.
Dr Ross White, Chief Executive at Holy Cross says: "Advances in nursing and medical care mean that more people survive brain injuries caused by an accident, serious stroke, or hypoxia which is when the supply of oxygen to the brain is interrupted. While patients will initially be treated on an acute ward at another hospital, there comes a time when their care and rehabilitation needs are better served by a specialist neuro-rehabilitation unit such as Holy Cross Hospital."
The patients cared for by the hospital all have extremely complex health issues. The approach is to manage each patient's condition carefully, improve and maintain their quality of life, and to focus strongly on individual wellbeing through a varied programme of patient activities.
If the application is approved, it is hoped work could start towards the end of this year and for the building to be ready for patients in spring 2022.