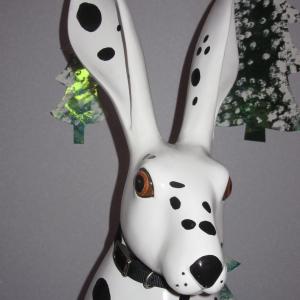 Patients thank sponsors at art therapy class
Sponsors of a hospital art project were recently invited to attend an art therapy class so they could see first-hand how their support has helped patients.
Heating, plumbing and electrical specialists Paine Manwaring and Oak Services, a construction company, jointly sponsored Holy Cross Hospital's participation in Haslemere Hares, a community sculpture trail where local groups and artists decorated large model hares to form an art trail around Haslemere over the summer.
Sponsorship from the two businesses meant that Holy Cross Hospital's patients were not only able to participate by painting one of the sculptures but also to keep their hare at the end of the project.
"Being part of projects like Haslemere Hares is really important to us as a local employer and as part of the community. We really appreciate the generosity and support of Paine Manwaring and Oak Services," says Joanna Speed, General Manager at Holy Cross Hospital. She continued: "The members of our art therapy class thoroughly enjoyed decorating our hare which we have entitled 'Hare of the Dog'. He is a magnificent sculpture which we all love seeing on display in the hospital."
Andy Prager, Director of Paine Manwaring attended the patients' art class and said: "We have worked with Holy Cross a great deal over the years, so we have an understanding of the amazing work they do with patients. Sponsoring the hospital's very own hare has been a delightful way to support Holy Cross. The sculpture looks great!" said Mr Prager.
Hare of the Dog is one of around 60 one-metre-high sculptures that formed an art trail around Haslemere. The trail was launched in May at Haslemere Museum and ran throughout the summer.
Patients participated in a similar project called Haslemere Hogs in 2017. 'Hare of the Dog' has now joined 'Vivaldi, the hog for all seasons' and both sculptures can be seen standing proudly in the Hospital's entrance porch.
Joanna Speed from Holy Cross Hospital with Andy Prager from Paine Manwaring