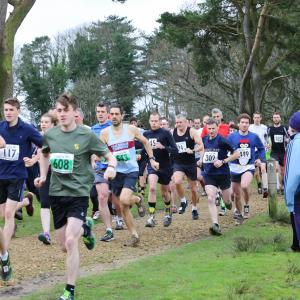 Register for the Boxing Day Run
Runners wanting to take part in the Boxing Day Fun Run at the Devil's Punchbowl are encouraged to book in advance so as to guarantee a place in the highly popular event.
The 3.5-mile charity fun run will start at 11am on Wednesday 26 December at the Devil's Punchbowl Hotel. The route will take runners across Hindhead Commons and will include Gibbet Hill and the Devil's Punchbowl.
Haslemere resident and race organiser Matt Dellar says: "The Boxing Day Run is a chance to have fun, get out in the fresh air and burn off some of the Christmas excess. So far, we have had a great response from people pre-registering and have already sold out of places on the Drinking Run.
"Reserving one of the remaining places in the non-drinking race is very quick and easy to do at www.boxingdayrun.org. It costs £12 to enter and, if you are thinking about taking part, I really would urge you to book in advance as there are unlikely to be places available on the day."
The Boxing Day Fun Run donates one hundred per cent of its profits to Holy Cross Hospital, which is located a short distance from where the run is held. The Hospital provides specialist care to adults with complex needs that have often been caused by profound brain injuries or serious neurological conditions.
Dr Ross White, Chief Executive at Holy Cross Hospital says: "We continue to be extremely grateful to Matt Dellar, his team of volunteers and everybody who supports the race. Over the years, the Boxing Day Run has raised thousands of pounds for patients at Holy Cross Hospital. The most recent donation went towards installing piped oxygen and suction in all patients' rooms, which has brought so many benefits."
To record how long it takes to complete the run, each runner will be given a timing chip which have been provided by Race Timing Solutions. The results will be available to view after the event on the Boxing Day Run website.
The Boxing Day Run is supported by a number of local businesses, including Wilson Electrical Distributors Ltd, Keats Estate and Letting Agents, Haslemere Travel, the Hogs Back Brewery and the Sportslocker.
For more information about the fun run, visit www.boxingdayrun.org.