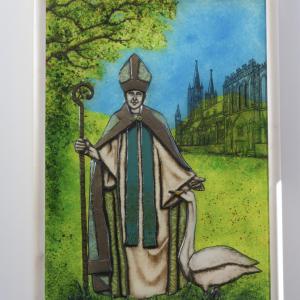 21st century glass for a 12th century saint
A bespoke piece of artwork has been unveiled in St Hugh's, which is Holy Cross Hospital's new education centre.
The backlit glass wall-art depicts St Hugh who is the patron saint of sick people, sick children, shoemakers and swans.
The handcrafted piece of art is made from thousands of pieces of glass, many of which have been hand cut. The pieces have been fused together at high temperatures to create one solid piece of glass. The images of St Hugh, a whooper swan which is known to have adopted Hugh, and Lincoln Cathedral where Hugh was Bishop during the reign of King Henry II were painted using traditional stained-glass techniques.
At the official unveiling, former Chief Executive, Chris Hinton explained that it is the tradition at Holy Cross Hospital for buildings to be named after saints and that as a great educator and patron saint of sick people, it seemed appropriate to name the hospital's new education centre after St Hugh.
Hugh's life is well-documented. He was born around 1140 and grew up in a monastery. He was ordained as a priest before he was 20 and was deeply attracted to monastic life. At 23 he became a Carthusian monk and by the time he was 30 he had been promoted to the role of procurator in a charterhouse.
All his life, Hugh wanted to live a simple and monastic life but after being pushed into the role of procurator he became well known and his fame spread to King Henry II who requested that he become the prior of his monastery in deep Somerset.
At King Henry's insistence, St Hugh became Bishop of Lincoln in 1186, a role which required him to travel long distances on church business and diplomatic missions for the king. When at Lincoln he stayed at his manor house in Stowe and it is here that his connection with the swan was made.
Chroniclers describe the swan as being larger and different in appearance to the native swans. It may have been a whooper swan, which still migrate in winter to England from Iceland. The swan was noted to be aggressive to other swans and would become agitated in the days before St Hugh's arrival. When Hugh arrived, the swan would immediately go to him and drive other people away. It is not known why the swan adopted Hugh but he had been known previously to have had remarkable relationships with wildlife.
Jan Simpson from Koru Arts in Mestead, Hampshire was commissioned to create the artwork and Alison Smith, an important member of the Koru Arts' team, completed the final painted detail. She says: "The brief was to create a piece that shows Hugh as a friendly welcoming face that will greet visitors as they arrive at the education centre. To get his stance and facial expression just right, we used a model to pose as St Hugh.
"It took around four months to create the artwork and during that time, the glass spent a total of nine days being fired in the kiln. The final panel was framed in beech and this was chosen because it is a traditional British wood.
"By preserving the wonderful story of St Hugh in glass, I hope that more people will be able to enjoy finding out about his remarkable life."
The artwork hangs in St Hugh's education centre. The centre can be hired for private business events and conferences.The flexible space seats 90 and can be divided into two smaller rooms if required. To find out more about hiring St Hugh's, contact Jo Speed.
Pictured from left to right is: John Talbot who modelled as St Hugh; Alison Smith, artist; Jan Simpson, artist; Chris Hinton, former Chief Executive at Holy Cross and Sister Mary Agnes.