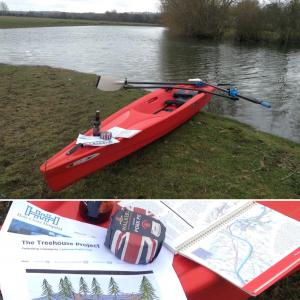 Rowing adventure raises funds for Treehouse Project
Martin Wainwright took up sculling as a young boy around 50 years ago. He took to the water again this year to row a single scull for the first time in decades. His voyage has raised over £8,000 for the Treehouse Project but there is still time to help Martin reach his ultimate target of £10,000.
Martin was inspired by a family member, who is a patient at Holy Cross, to attempt the challenge. A lively account of Martin's story plus lots of photos are on his Go Get Funding page. You can also read more about the Treehouse Project on the campaign's main fundraising page.
Martin's trusty boat, Clementine, took him safely along his 100-mile odyssey in September. A test of physical and mental strength, Martin describes on his fundraising page that seeing donations come in kept him going and "more important, bring stimulus and a taste of the great outdoors to patients at Holy Cross."
The Treehouse Project will see a large wheelchair accessible wooden viewing platform nestled in the wooded hillside at Holy Cross. Patients, their family and friends will be able to share in the benefits of being in beautiful natural surroundings in the fresh air. Sensations such as the warmth of the sun, gentle breeze, birdsongs and other woodland sights, sounds and smells will be enormously beneficial to all those able to use it.