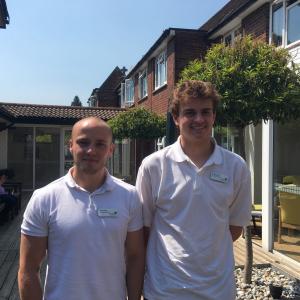 Students receive hands-on experience
Two student physiotherapists on a four-week placement from Keele University have received a warm welcome from staff and patients at Holy Cross Hospital.
Ryan Smith and Niall Barefoot are in the first year of their three-year degree course and, before qualifying, are expected to complete a minimum of 1,000 hours supervised practice.
This is their first clinical placement since beginning their physiotherapy degree and is an observational placement. The pair will spend time observing hydrotherapy as well as experiencing clinical practice within both the in-patient and out-patient therapy teams. The placement is designed to introduce the students to the whole multidisciplinary team, including nursing staff and occupational therapists.
Holy Cross Hospital was identified by Keele University as a suitable collaborator to help students undergo an educational experience and to acquire the necessary skills to become a physiotherapist.
Speaking about the student placements, Chief Executive Ross White says: "We are very pleased to welcome Ryan and Niall and to give them an insight into the specialist care that takes place here. During their time with us, they will learn important techniques relating to making splints, managing patients with tracheostomy tubes and setting up special wheelchairs. Our highly supportive and skilled physiotherapy team will give them a really good introduction to the treatments and techniques related to hydrotherapy and neurological physiotherapy. I am sure Ryan and Niall will find their placement very rewarding."
As well as treating in-patients, The Physiotherapy Centre at Holy Cross and its dedicated, professional and friendly team provide physiotherapy and hydrotherapy treatments to members of the public who have sports injuries, or conditions affecting their muscles and bones.