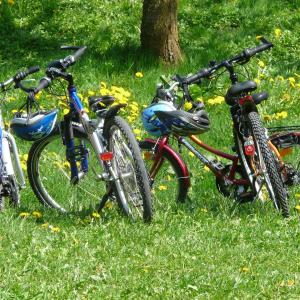 Cycling and climbing to raise money for the Treehouse Project
The Treehouse Project, which will see the building of a wheelchair accessible woodland walkway and viewing platform in the hospital grounds, is set to get a cash boost from not one but three bold and adventurous fundraising projects organised by the friends of one of Holy Cross Hospital's patients.
First, nine-year old Joe will be cycling the Taff Trail from Merthyr Tydfil to Cardiff at the end of May. This is nearly 30 miles and will be the furthest he has cycled in one go! Joe has already raised £440 because he 'wants to help raise money for the Treehouse project.'
Second, a fundraising 125k (78 miles) bike ride - named the Brighton Capel Monster - through the Sussex countryside takes place on 30 June. One week later, two friends will climb the highest mountains in England, Wales and Scotland in 24 hours. The group of friends hope to raise the £20,000 needed to build the treehouse.
Tom Hatton, Stassia Clegg and Andrea Collings are among the friends of one of Holy Cross's patients who was left severely disabled following a serious bike accident. He is now making progress in his recovery at Holy Cross and, impressed with the skill and care at the hospital, they have organised two amazing feats.
Despite its scary title, the Brighton Capel Monster promises to be a great day out cycling the quieter lesser known roads around picturesque Sussex. Tom Hatton, one of the organisers explains: "Starting at Brighton's Ditchling Beacon, the route goes via the village of Capel and back to Hove, with homemade cakes and sandwiches along the way plus a barbeque and beers on Hove beach. Riders can simply pay an entry free or opt to raise sponsorship too."
Friends Stassia and Andrea will begin their 24-hour challenge by climbing Scotland's Ben Nevis before travelling through the evening by minibus to Scarfell Pike in the Lake District. Finally, they will conquer Mount Snowdon in north Wales.
"We have beautiful surroundings at Holy Cross which we would like our patients to benefit from but our woodlands are not as accessible as we would like. We're very grateful to Tom, Joe, Stassia and Andrea and their fellow organisers for their hard work and time supporting this exciting project. The treehouse offers fantastic therapeutic benefits to patients and for family visits," says Dr Ross White, Chief Executive at Holy Cross.
As well as raising money, the organisers are also looking for volunteers to help make the project a reality. To find out more, visit the Treehouse Project fundraising webpage, or enter the ride or sponsor Stass and Andrea's climb.