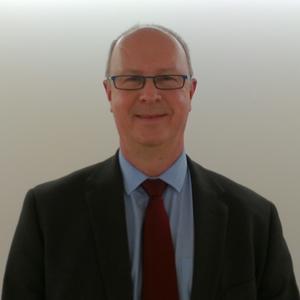 New CEO joins Holy Cross
Dr Ross White has been appointed as the new Chief Executive following the retirement of Christopher Hinton after 40 years of service.
Dr White took over the reins on 19 February. He has joined Holy Cross after working for nine years at Mildmay Mission Hospital in East London. Mildmay is a 150-year-old charitable institution offering services to people living with HIV and has a strong focus on neuro-rehabilitation.
Sister Mary Agnes Trustee with special responsibility for the Hospital says: "We are pleased to welcome Dr White to Holy Cross and feel he will be an excellent fit. His career at Mildmay combined with his background in senior leadership within the public and charity sectors and five years of management consultancy experience with the Charities Aid Foundation, will put him in good stead for the role."
Following an early career as a neutron physicist in Grenoble, France, Ross returned to the UK and completed an MBA at Nottingham University. He has since worked as a director for two hospice organisations, The Arts Council of England and The Anne Frank Trust.
Commenting on his first week at Holy Cross, Dr White says: "As the Care Quality Commission assessed in 2017, Holy Cross is an outstanding hospital. It is the inspiration of faith, partnership and charity, combined with skilled, experienced, and compassionate staff and volunteers, that makes it a special place.
"Our patients have severe disability and extremely complex needs, and having already spoken to some of their relatives, one soon realises that each patient here is someone else's treasure. I look forward to ensuring that Holy Cross Hospital continues to provide the best environment for their well-being."