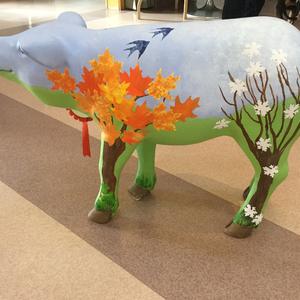 Vivaldi, a hog for all seasons
To mark 100 years of serving the Haslemere community, we decided to take part in a community event called Haslemere Hogs.
The project has involved local artists and schools decorating 60 fibreglass hogs that will be displayed throughout the area for approximately three months from April.
Thanks to the generosity of our contractor Commercial Grounds Care and Porky White Sausages, we have been able to buy our pig so that it can eventually become a permanent feature in our senses garden.
The weekly patient art group was tasked with decorating the hog and they chose a botanical theme. Each quarter represents one of the four seasons, which is how it came to be named Vivaldi!