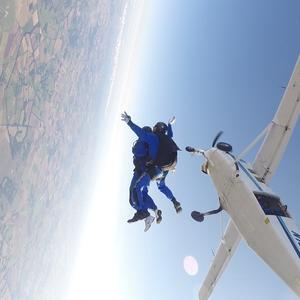 Contractor takes to the sky
We are delighted that representatives from the contractor building our new education centre have decided to take part in a skydive to raise money for Holy Cross.
The nine jumpers from Strongbond and associated companies have opted for a 15,000ft (2.8 mile) jump, with a freefall of approximately 60 - 70 seconds. They will reach a speed of 125mph and a heart rate of 150 beats per minute! The skydive will take place above Salisbury on Friday 23 September. Spectators are welcome.
We greatly appreciate this support and already have some great ideas about how we may spend the money raised.
For more information about the fundraising skydive, please visit Strongbond's Just Giving page.