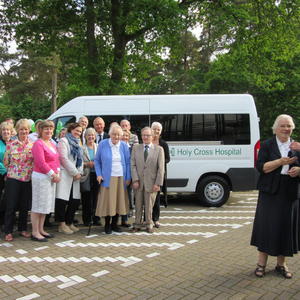 Hospital receives new minibus
Patients at Holy Cross Hospital are set to be transported in greater comfort following the donation of a brand new minibus by the Friends of Holy Cross Hospital.
The minibus will replace an older model that has been in service since 2000. Passengers will benefit from many of the features that are found as standard in cars such as air conditioning, factory-fitted airbags and tinted windows. There is also a ramp and electric winch to help safely move up to three wheelchairs onto the bus.
The Hospital has two minibuses in service and they both play a big part in Hospital life. As well as transporting patients to and from external medical appointments, the minibuses take patients on more pleasurable excursions such as home visits, outings, trips to the coast, the theatre or local beauty spots.
Christopher Hinton, Chief Executive at Holy Cross Hospital says: "It was wonderful that so many Friends could attend the handover of the minibus. This is the fifth bus the Friends have bought in 25 years. While our older bus has served us well, it is now time to put it into retirement.
"Many of our patients spend long periods of time with us. Having access to these specially adapted minibuses means we are able to provide some of our patients with a change of scenery, which often serves as a real tonic.
"Over the years, the Friends have raised thousands of pounds, which has been used to buy equipment and provide facilities that make a big difference to the lives of our patients. The first week of June is Volunteers' Week and so this makes it all the more timely for me to pay tribute to our Friends and to say a big thank you for everything they do."
After the handover of the minibus, the Friends were invited to meet members of staff and to view a series of displays, which provided an insight into the many ways the Hospital's work and services have benefitted from donations. This was then followed by the Friends of Holy Cross Hospital's AGM.
See our website for more information about volunteering or becoming a Friend of Holy Cross.