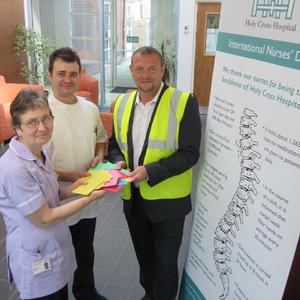 Nurses send letters to 2116 nurses
The letters are to be sealed in a time capsule, which will be buried beneath the foundations of a new education centre that is being built in the hospital grounds.
International Nurses' Day is held annually on 12 May. This is the birth date of Florence Nightingale who is recognised as being the founder of modern nursing. The current nursing team at Holy Cross Hospital represents 13 different countries. The nurses have written about their experiences and shared stories about what it is like to be a nurse in 2016, providing round-the-clock care for up to 40 severely disabled patients.
Gina Guo, Nursing Services Manager says: "As it has been nearly 200 years since Florence Nightingale was born and because Holy Cross Hospital will celebrate its centenary next year, we have recently been spending some time reflecting on how much nursing has changed. Our nurses are the backbone of Holy Cross and we are extremely proud and grateful for what they do."
She adds: "We hope that when the time capsule is opened in 100 years' time, the nurses of 2116 will enjoy reading our stories. We have attempted to describe a typical day, which includes administering 1,265 separate medications to patients, washing our hands every 20 minutes or so and turning bed-bound patients up to eight times in 24 hours!"
The team at Holy Cross Hospital provide skilled care and treatment to patients who are highly dependent. The new Education Centre will enable the delivery of in-service training, which is vital for ensuring the Hospital is able to continue to provide the specialised care for which it has become known.
Photo caption: Elizabeth Read, longest serving nurse at Holy Cross and Bogdan Matei present letters from the nurses to Les Davies, Strongbond Construction. The time capsule will be buried by Strongbond during the construction of the new education centre.