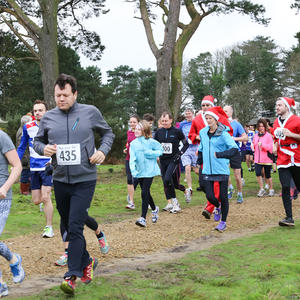 Fun Run attracts large numbers
The Boxing Day Fun Run held at Hindhead proved to be as popular as ever this year with 545 runners taking part.
The 3.5-mile, off-road charity run started at the Devil's Punchbowl Hotel and took runners over Hindhead Common, Gibbet Hill and the Devil's Punch Bowl. The first runner to complete the course was Paul Lowe in 22 minutes and one second. The result of the Men's Drinking Race was very close with just one second separating Jon Fairs and Luke Shearring from first and second place. Sarah Hill came first in the Ladies' Drinking category and Becky Robinson was the first to cross the finish line in the Ladies' Non-Drinking category.
Local resident Matt Dellar is the organiser of the charity race. He is a supporter of the Friends of Holy Cross Hospital and will be donating 100 per cent of the race profits to their work. Holy Cross is a specialist hospital that helps people with severe disabilities and long-term conditions to achieve the best possible quality of life.
Christopher Hinton, Chief Executive at Holy Cross took part in the race and said: "As always, the race was most efficiently organised by Matt and his team. The weather was wonderful and there was a fantastic atmosphere. I would like to give my thanks to the event sponsors Keats, Haslemere Travel, The Sports Locker and the Hogs Back Brewery. Thanks also go to the National Trust and the Devil's Punchbowl Hotel for their support."
See the full list of Boxing Day Fun Run results.
RESULTS
Men's Drinking Race

1st Jon Fairs

2nd Luke Shearring

3rd David Taylor

Ladies' Drinking Race

1st Sarah Hill

2nd Sofia Shearring

3rd Fiona Mairead Mckenna

Men's Non-Drinking Race

1st Paul Lowe

2nd Daniel Titcomb

3rd Lawerence Hollom

Ladies' Non-Drinking Race

1st Becky Robinson

2nd Sarah Green

3rd Alex Croucher