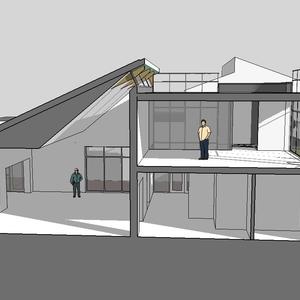 Planning permission granted
Holy Cross Hospital, Haslemere is celebrating the news that it has received planning permission to build a new Education Centre in the grounds of the Hospital.
The new two-storey building will be built to high efficiency standards and will replace a 40-year old prefabricated bungalow. The design will optimise the sloping site so that the Education Centre is not visible to any near neighbours. The Centre will also incorporate much needed storage space and offices.
As a leading hospital in the provision of treatment and care for people with severe and complex disabilities, the Hospital places great importance on staff training. The Centre will provide a dedicated, purpose-built facility where staff can take part in regular specialist training and knowledge can be shared with other care providers.
Christopher Hinton, Chief Executive at Holy Cross Hospital says: "Our number one priority is to provide our patients with the best possible care and to do this, we need highly trained staff. We aim to attract and retain the best clinical staff and one of the ways we do this is by actively supporting and encouraging staff to further their knowledge, skills and professional development. An on-site training facility will be a fantastic resource that will enable us to offer training in an environment that is appealing and conducive to learning."
The next stage of the project will be to finalise the specification and prepare tender documents to send to suitable contractors.
Updates on project progress and artist's impressions of the new building can be seen on the Site Improvements page.