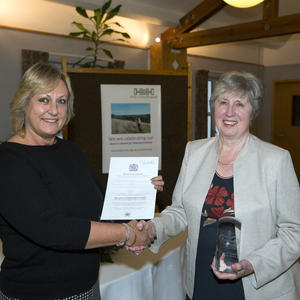 Top award for volunteers
Volunteers and Friends at Holy Cross Hospital have been formally presented with the Queen's Award for Voluntary Service.
The award is the highest accolade that can be given to volunteer groups across the UK and recognises outstanding work carried out in communities for the benefit of others. The Holy Cross Hospital volunteers and Friends were commended for 'improving the quality of life for people with severe and complex neuro-disabilities by providing meaningful social activities'.
The formal presentation took place on Monday 19 October and was made by Caroline Breckell, Deputy Lieutenant of Surrey. Mrs Breckell presented a commemorative domed glass crystal, certificate and citation signed by the Queen to Christine Keattch. Miss Keattch has been volunteering at Holy Cross for 18 years and is one of the longest-serving volunteers.
The presentation was witnessed by many current and past volunteers and Friends, Deputy Lieutenants, the High Sheriff, the Mayor of Waverley and the Mayor of Haslemere.
Christopher Hinton Chief Executive at Holy Cross Hospital welcomed the guests and said: "I feel honoured that the volunteers and Friends have been put forward for this prestigious award." He added: "Volunteering has been happening at Holy Cross for nearly 100 years. It began in 1916 when the Sisters acquired the site on which Holy Cross now resides. The Sisters encouraged others from the local community to join them by volunteering to help with their work."
Today, the volunteers continue to make a big difference to patients' lives. They enable a wide-range of activities in the Hospital as well as outings such as home visits, trips to the seaside and local amenities. Their friendly human contact contributes so much to the quality of life of patients and their families.
The work of the volunteers is supported by the fund-raising efforts of the Friends. The Friends' group was established in 1960 and the money they raise funds activities such as the Art Group and maintaining the Senses Garden. The Friends have recently agreed to fund the purchase of a minibus to replace one they bought some years ago.
Deputy Lieutenant, Karin Sehmer read the citation and praised the contribution made by the Friends and volunteers. She described the Queen's Award as being 'the equivalent of an MBE to the volunteers as a group'.
The presentation ended with some warm words of thanks from Sister Trustee, Sister Mary Agnes. She described the presentation as having been a 'wonderful occasion' and a 'great opportunity to get so many volunteers together and to thank them for everything they do'.
Anybody who is interested in finding out more about volunteering at Holy Cross Hospital should contact Charles Marriott, Patient Activities Coordinator or call 01428 643311.
Caption: Caroline Breckell, Deputy Lieutenant of Surrey presents a commemorative domed glass crystal, certificate and citation signed by the Queen to Christine Keattch.