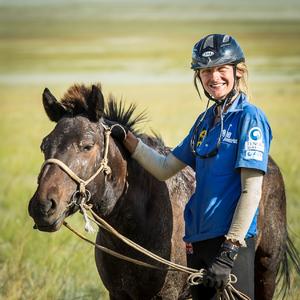 Adventure raises money
A competitor in the world's longest and toughest horse race has shared details of her adventure with patients, friends and family members from Holy Cross Hospital.
Vikki Grainge from Winslow, Buckinghamshire was inspired to enter the 1,000km Mongol Derby to raise money for Holy Cross Hospital and the Impaired Consciousness Research Group at Cambridge University.
Every year around 30 riders compete against each other for the highly acclaimed derby crown. There is no marked course so riders have to use survival skills and sheer determination to navigate the Mongolian wilderness between check points.
Horse stations are positioned at 40km intervals around the course. Riders have to visit each of the 28, stations to change their horse. The welfare of the horses is a top priority for the race organisers.
Telling guests about her experience, Vikki said: "I have been riding since I was three. I feel so lucky to have been able to combine something I love with fundraising. The Mongol Derby was a once in a lifetime experience. It was far more mentally challenging than I ever thought it would be and at times I really questioned my sanity and even my ability to go on. Then I thought of all the generous donations that people had made and I dug that little bit deeper. Overall it was an absolutely fantastic adventure. The scenery was beautiful, the people friendly, the horses amazing and I can honestly say that it was the toughest thing I will ever do"
Vikki completed the race in ten days and has so far raised £7,554. Anybody wishing to make a donation in respect of this event can do so by visiting www.holycross.org.uk where they will find a link to the Virgin Money Giving page. Alternatively, in return for a donation to support her fundraising, Vikki is also available to give talks to local organisations about her experiences. She can be contacted by emailing v.wojcik@hotmail.co.uk or by calling 07730599808.