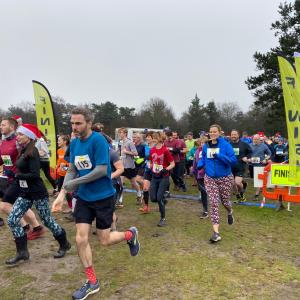 Charity fun run provides cash donation
Holy Cross Hospital has thanked local fundraisers, runners and supporters after receiving a cheque for £2,600, the proceeds of the ever-popular Boxing Day Run across the Devil's Punchbowl.
"A huge thank you to Matt Dellar who organises the Boxing Day Run each year, the many runners who braved the chilly December weather and all the supporters, volunteers and sponsors who helped make it happen," says Dr Ross White, Chief Executive of Holy Cross Hospital. "Putting on an event like that while the nation was still struggling with the difficulties of life in a pandemic was a big undertaking. Matt and his team did a sensational job in making sure the event went safely and that everyone enjoyed themselves. A massive thank you and well done from all of us at Holy Cross!"
Like many health and care settings, COVID has presented extra costs and challenges to Holy Cross Hospital and made fundraising increasingly difficult. The Boxing Day Run, an annual fundraiser for the hospital, could not take place in 2020 as England was in a lockdown and while Matt was hopeful the event would resume in 2021, COVID was still raging over winter.
"Omicron did its best to interfere with Christmas but it did not stop our hundreds of runners coming out on Boxing Day to run the 3.5 mile cross country route - lots of whom stopped to enjoy a pint of ale en-route. Thank you to everyone who came along," says Matt. "If you weren't able to join us last year, do come along in 2022 when we will do it all again."
Holy Cross Hospital, a specialist hospital for people with highly complex needs that have often been acquired through brain injury or neurological conditions, depends on charitable fundraising to complement its care and therapeutic services. The hospital will use the money raised from the Boxing Day Run to contribute towards sensory room equipment, which will help patients to develop skills including tracking, motor skills, the use of switches and assistive technology.