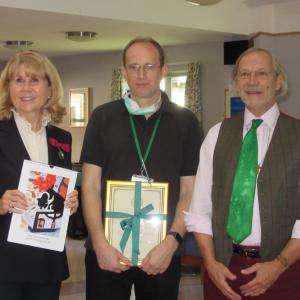 High Sheriff presents an award to Holy Cross Hospital
Dr Julie Llewelyn, the High Sheriff of Surrey has presented an award to Holy Cross Hospital in Haslemere 'in recognition of great and valuable services to the community'.
Dr Llewelyn first visited Holy Cross in August when she officially opened the hospital's new wheelchair accessible treehouse. Explaining why she felt compelled to make the award, she told staff how she had been taken aback by 'how good you are'. She said: "I don't work in your sector, but I do understand the difficulties you face and have faced, particularly over the past 20 months. I have been very impressed by that and very very impressed by the things you offer the people who are resident here. This is excellent residential care in a lovely setting and if I had the challenges of the people you care for then I would want to be here."
Charles Marriott and Adam Bristow, who run the patient activities programme, received the award on behalf of everybody who works at the hospital. Between them, Charles and Adam organise in-house activities such as art, music, film days, festivals and quizzes, arrange patient outings to the hospital's holiday cottage in Selsey, to the theatre, gardens, etc. They also transport patients to and from appointments in hospital, and organise the team of volunteers.
Dr Llewelyn said: "This award is a sign of appreciation from people in Surrey. Well done to you all. I hope you are very proud of what you do."
Speaking in response, Sister Kathleen, Trustee with special responsibility for the hospital said: "We are very pleased to receive the award which acknowledges all staff. This occasion gives us an opportunity to say how wonderful the team is so thank you Dr Llewelyn for holding our spirit and for acknowledging our staff."
Holy Cross Hospital is a specialist hospital for highly dependent patients who need individualised care due to neurological conditions following strokes, head injuries and other incidents.
Caption: (L to R) Dr Julie Llewelyn the High sheriff of Surrey with Adam Bristow and Charles Marriott who run the patient activities programme at Holy Cross Hospital.