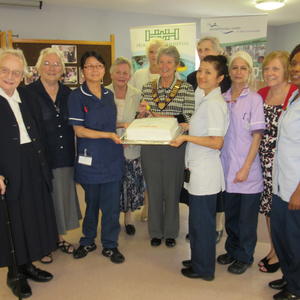 Local nurses receive thanks
Practising and retired nurses gathered at Holy Cross Hospital on Tuesday to join in the celebration for International Nurses' Day.
A tea party was held to mark the occasion and the nurses were joined by the Mayor of Haslemere, Cllr Penny Bradford who is herself a retired nurse.
Chris Hinton, Chief Executive at Holy Cross Hospital says: "I was delighted that so many nurses were able to join us today. It was wonderful to be able to welcome current and retired nurses from the Haslemere area. Nurses do a fantastic job and without them our hospital would certainly not function. International Nurses' Day is a great way to show our appreciation and to say 'thank you'."
The International Council of Nurses has marked the day since 1965. In 1974, the date was changed to 12 May as this is the anniversary of the birth of Florence Nightingale, who is widely considered to be the founder of modern nursing.
Holy Cross Hospital is a specialist hospital offering services for patients with severe and complex disabilities.